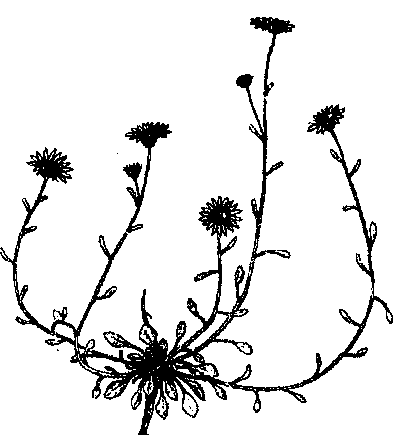 The Cedar Mesa Project
The Geologic Chronology of the Cedar Mesa Area
Return to The Cedar Mesa Project Home Page.

\
---
The following is a brief time sequence of the Geologic Eras and Periods along with some of the significant formations you may encounter in the Cedar Mesa area.
Era
Period
Million Years
Formations
Cenozoic
Quaternary
Now...1.6
soil, sand,gravel
Tertiary
1.6...66.4
Igneous intrusions
[Laramide Orogeny]
Mesozoic
Cretaceous
66.4...144
Mesaverde Group
Mancos Shale
Dakota Sandstone
Cedar Mountain
Burro Canyon
Jurassic
144...208
Morrison Formation
Entrada Sandstone
Carmel Formation
Navajo Sandstone
Kayenta Formation
Wingate Sandstone
Triassic
208...245
Chinle Formation
Moenkopi Formation
Paleozic
Permian
245...286
Cutler Group:
White Rim Sandstone
Organ Rock Shale
Cedar Mesa Sandstone
Elephant Canyon Formation
Halgaito Shale
Pennsylvanian
286...320
Hermosa Group:
Honaker Trail Formation
Paradox Formation
[Ancestral Rockies Orogeny]
Pinkerton Trail Formation
Molas Formation
Mississipian
320...360
Leadville/Redwall Formation
Devonian
360...408
Ouray Limestone
Elbert Formation
Silurian
408...438
[Rocks missing]
Ordovician
438...505
[Rocks missing]
Cambrian
505...570
Ignacio-Lynch Formations
Pre-Cambrian
Upper
570...2,500
Quartzites/Granites
Lower
2,500...4,500?
Metamorphics/Granites
Return to Cedar Mesa home page.
---
URL of this page: http://bcn.boulder.co.us/environment/cacv/cacvchrn.htm

Revised '9-Jun-2001,11:10:14'

Copyright &copy1996, 1999 SCCS.

---