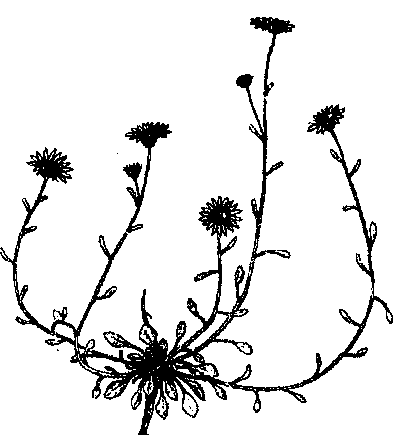 The Cedar Mesa Project
Your Hiking and Backpacking Safety in the Grand Gulch Area
Return to The Cedar Mesa Project Home Page.

\
---
"More than anywhere else I sensed that here one must fit into the landscape, must know what is there and where, in order to survive. These canyons, like the ocean and the air, are unforgiving. They are not places in which to be cavalier or careless. What ever direction, it's a long way out."
Ann Zwinger, Wind in the Rocks, Harper and Row, New York, 1978, p. 4-5.
---
Safety is a primary concern when visiting Cedar Mesa. Minimizing impacts on the land also is essential and can be enhanced by thoughtful planning before and during the trip. Know your location at all times, the difficulties inherent to the terrain, drastic weather changes, and plan accordingly. Flash floods, hypothermia, and hyperthermia, including heat stroke, and heat cramps, are real threats as are dehydration, lack of potable water, and scorpion and snake bites. Ann Zwinger is correct. It is a long way out in any direction.
Member Policies: Emergencies
(a) Volunteers who encounter emergency situations are only required to write down the necessary information and leave in order to notify the authorities. CMP Cedar Mesa Project Volunteers are not equipped nor trained in rescue or advanced First Aid. Therefore, any time you choose to assist in an emergency, your decision is considered personal. We urge you to consider the ethical, personal, legal, and safety ramifications of your choice.
(b) Your own safety and life should come first, even (or especially) in emergency situations . Don't put your life or safety in jeopardy. Please remember that if you are injured when on duty, you will be unable to help others. Please exercise good, cautious judgment at all times.
(c) If you do encounter an emergency and do decide to go for help, write down a11 relevant information (do not trust your memory), and walk, DON'T RUN, to the trailhead. Accidents tend to occur in clusters because uninjured people become flustered and rushed.
In case of an injury, write down the following:
Location of the victim. Include description of the landscape and indicate location on topo map.
The apparent condition of the victim. Do not diagnose the problem. Describe condition only (conscious, bleeding, sitting, etc.)
Weather.
Number of companions.
Kind and condition of clothing, equipment, etc.
Time of day.
(d) While on duty, stay on established trails. Please leave your exciting cross-country travel and rock scrambling for times other than the weekends you are working. People have died from falls in the wilderness area, some of whom were very fit and competent.
Adapted from the Indian Peaks Working Group
Host Information Summary
---
Hypothermia
Chronic hypothermia is the gradual lowering of the body's core temperature (from a "normal" 98.6°F/37°C) to below 95°/35C°. Most deaths from hypothermia happen when the air temperature is between 30F&deg/0C°; and 50C&degF/10;°.
Prevent Hypothermia by limiting your exposure to wind, cold and water.
This is best accomplished by dressing for the current and expected weather conditions. Be on the lookout for hypothermia in your hiking companions. A hypothermia victim may be unaware of their condition.
Signs and Symptoms of Hypothermia
98 - 95°F
37 - 35°C
Chillness, goose bumps, some impairment in dexterity, shivering.
95 - 93°F
35 - 34°C
Intense shivering, obvious lack of muscle coordination, mild confusion, stumbling pace
93 - 90°F
34 - 32°C
Obvious loss of muscle coordination, frequent stumbling, slurred speech.
90 - 86°F
32 - 30°C
Shivering ceases, cannot stand, confused, incoherent.
86 - 82°F
30 - 28°C
Severe muscle rigidity, semiconscious, slow pulse and respiration.
82 - 78°F
28 - 26°C
Unconscious, erratic pulse and respiration.
78 - 75°F
26 - 24°C
Unconscious, probable death from heart failure.
Treatment of hypothermia
The first goal is to get the hypothermia victim dry and warm. Exactly how depends on immediate circumstances, but here are some guidelines:
Replace the victims wet clothing with dry clothing. If dry clothing is not available, remove wet clothing and replace it with dry rainwear, a tarp, or other windproof material.
Get the victim to a dry area and out of the wind. If possible, set up a tent. Start a fire or cookstove.
Give the victim ample hot beverages, such as soup and tea. If they will eat, give them hot food.
If the victim is not responding, warm him/her with body heat. Strip them and put them into a sleeping bag with another naked person.
---
Heat Cramps
Heat Cramps are severe, spasmodic contractions of the muscles, most often happening in the heavily used muscles, such as the leg muscles. The may last 15 minutes or longer and the muscles may be sore for several days after the event.
Cramps can usually be stopped by stretching the muscles. Do not knead or pound on the muscle - this can make the soreness much worse.
Cramps can also be caused by an excessive intake ot water without enough salt which results in a dilution of the extracellular fluids.
---
Heat Stroke
Heat stroke is the most serious of the heat illnesses. Death is common, as are permanent residual disabilities. The onset is often very rapid and is characterized by changes in mental function which can cover up recognizing the seriousness of one's condition. Confusion and irrational behavior are most frequent, but coordination, delirium, and unconsciousness often follow. Convulsions are common. The pupils may be dilated and unresponsive to light. The body temperature is almost always greater than 104°F/40C&degC and the pulse rate is high. Shock is usually present.
Treatment of heat stroke should be regarded as a serious medical emergency and treatment must begin as soon as possible. A delay of only a few minutes can cause severe harms.
If the victim is unconscious, an open airway must be maintained. Any shock should be treated by elevating the feet.
Cooling the body must begin immediately. The victim should be moved to the coolest place possible; especially where shaded from sunlight. In a hospital emergency room, a victim is treated by removing all clothing, covering with wet sheets and using fans to blow across the body. In a wilderness situation, similar procedures should be devised. Remove clothing, both the limbs and the trunk should be covered with wet towels or clothing, and the body fanned to increase air circulation and evaporative cooling. If possible, immerse the person in cool water. Any reasonable method to cool the person as fast as possible should be employed.
A person with heat stroke should be cooled by evaporation and transported to a hospital immediately.
However, one should not used alcohol (of any kind) sponging to cool the victim; some kinds of alcohol can be absorbed directly through the skin, especially by children.
While cooling the victim, the extremities should be massaged to help move cooled blood back into the organs in the body and head. Oxygen should be administered if possible. After the body temperature has been reduced to about 102°F (39°C), active cooling should be slowed to avoid hypothermia, but the victim should continue to be closely monitored to make sure the temperature does not rebound back to a dangerous level again. A temperature rebound is particularly common some three to four hours after a heat stroke attack.
Aspirin is not effective for heat stroke, and may aggravate complications - do not administer it.
As soon as possible, the victim should be moved to a hospital, particularly if unconsciousness for more than a few minutes occurred.
The complications of heat stroke can include failure of every organ system in the human body - any heat stroke attack must be considered a very serious event.
---
Return to Cedar Mesa home page.
---
URL of this page: http://bcn.boulder.co.us/environment/cacv/cacvsafe.htm

Revised '9-Jun-2001,11:10:14'

Copyright &copy1996, 1999 SCCS.

---