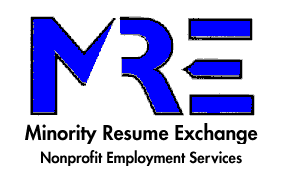 ---
PHONE:


(VOICE):	441-3985	546-0243	(AFTER-HOURS)  604-2367

(FAX)		939-0054	443-7615


WEBSITE: http://www.minorityresumeexchange.com (Click here to link to website)
LOCATION & MAILING ADDRESS:
2905 Center Green Court South, suite C, Boulder, CO 80301
HOURS:
Monday - Friday, 8:00 a.m. - 5:00 p.m.
SUMMARY OF SERVICES:
The Minority Résumé Exchange (MRE) is a private nonprofit corporation (501(c)(3)) developed by the Minority Business Leadership Council of the Boulder Chamber of Commerce in partnership with the Boulder Area Human Resource Association (BAHRA), with primary sponsorship by the City of Boulder, Boulder County and Boulder-Denver private industry. The MREs mission is to ...attract and retain ethnic minorities to Boulder County while assisting local employers with their workforce and diversity goals.
The MRE provides job seekers with a résumé circulation and job match service. The MRE also produces three (3) job fairs annually in Longmont, Boulder and Denver, Colorado.
ELGIBILITY:
All individuals seeking employment or better employment and are willing to haver their résumé circulated to Boulder-Denver employers.
FEES:
All MRE services are provided to job seekers at no cost. MRE member employers contribute annual tax-deductible membership fees based on the employers Full-Time Employee count.
INTAKE PROCEDURES:
Job seekers submit a completed résumé, MRE Résumé Workbook or Résumé Form through the MRE website.
---
Go to: