BMRC N SIG
Foam Rail Corner Module
Last Modified On: Saturday, 02-Feb-2002 21:28:21 MST
---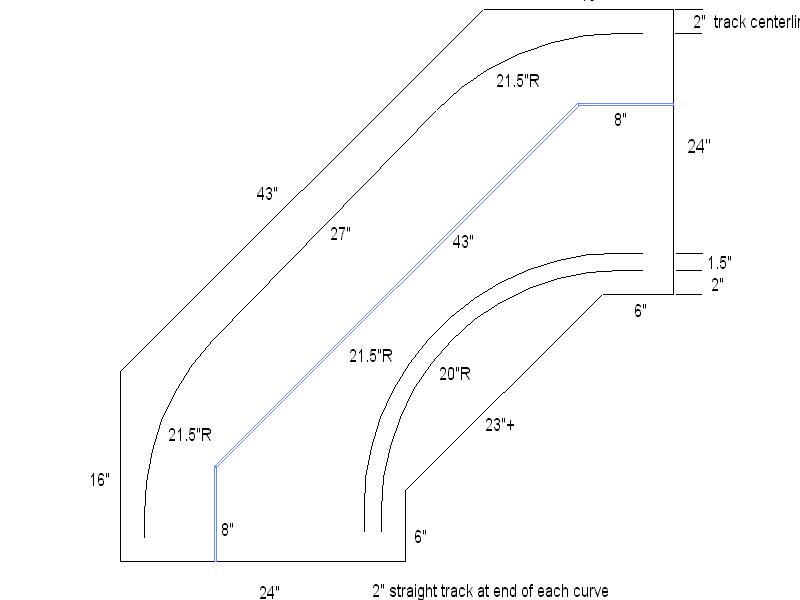 The Foam rail corner module starts off as a 8x2 piece of 2" insulation foam. This is available from Home Depot, Lowes and other building material supply stores. One maker is Dow Corning in blue and it is also available in green and pink depending on the manufacturer.
The 8x2 piece is cut in half and joined side by.side. Using the measurements above, cut the outside corner (Single track in this diagram) and glue on the inside corner. This gives you the basic shape above. From there the 1" foam for the single track side is placed on top on the 2" foam for the difference in height. Here on, the masonite is attached onto the sides followed by track wiring and scenery as per a straight module.
The module can be reversed by placing the single track on the inside instead of the outside.
Of course, this size and radius is convenient based on the 8x2 foam available from the building supply. Longer and gentler corners can be made using multiple pieces of 8x2. The only requirement is the interfaces to other modules are 2' wide and the track and backdrop are loacted in the correct positions. As foam rail is never meant to form a circular setup like N-trak modules do, the size and shape of corners is irrelevant as long as the interfaces match.
Contact Norb Norb Byczek for further information on the construction of these modules.
---