Frame Version
---



---
Date: Sunday, May 3, 1998
Time: 8:00 AM to 1:00 PM

A foreign dignitary is visiting a business which his country has helped to build in Colorado. To insure his protection the state department has selected an executive protection group. They believe that the threat for an attack on the dignitary is light and are not prepared for a full scale attack.

Terrorists attack the dignitary's entourage. Several employees are wounded in the attack, or are taken hostage. It is up to the executive protection to prevent the capture of the dignitary.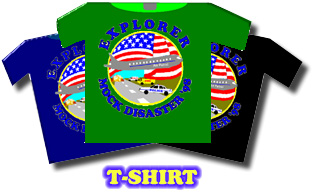 Numerous terrorists are inside and outside Stapleton International Airport asking for a fully fueled plane and $27 million dollars. Until the terrorists receive their requests, 2 (two) people will die every 20 minutes. One bomb has already exploded and another will go off in an unknown location if these demands are not met within 3 (three) hours.

All dispatched agencies are to control the situation, establish a perimeter, rescue the hostages, locate and remove the bomb(s), treat, triage, and evacuate the injured, and contain, arrest, or otherwise dispose of the terrorists.






The 1994 Explorer Mock Disaster is featured in the April 1995 edition of "Exploring" magazine. The exercise was first started in 1993 as a simulated aircraft crash. Explorers expressed a strong interest in completely planning, and operating a simulated mass casualty incident (M.C.I.) in which they assume the roles of first responders, incident commanders, medical triage, rescue, fire, law enforcement, "victims," communications, and many other roles normally handled by adults. The event has been recognized nationally at the Federal Emergency Management Agency's annual Disaster Preparedness and Family Protection Conference as a unique and effective way of involving Explorers in emergency management. One emergency manager attending the 1994 event stated that the Explorers were highly effective and performed as well or better than some exercises involving strictly adult professional organizations. A new specialty for Explorers has evolved in which Explorers who belong to existing posts may also participate as members of Emergency Management Posts to enhance their overall abilities to deal with disasters and to provide invaluable support to their community emergency service organizations through public education about disasters, and actual support of emergency services during disasters.






The Incident Command System assumes that the first public safety official (law enforcement, fire, medical) to arrive on the scene of an emergency becomes the "incident commander" who takes charge of the scene, assesses the priorities, and requests additional first responders. When sufficient additional personnel arrive, the incident command role may be transferred to a command officer from a law enforcement, fire, or emergency medical unit. The nature of the emergency often determines which agency or individual assumes ultimate command of the event. For example, an incident in which a fire and/or rescue operation is indicated, and mass casualties are present, will be turned over to fire commanders. Law Enforcement and Emergency Medical Services then assume a supporting role. The experience and affiliation of the public safety official often determines the appropriateness of their assuming the Incident Commander position.