For the latest news and updates, please see: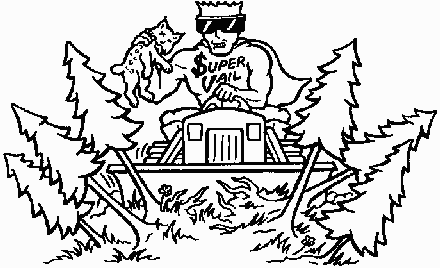 Protect the Two Elk Roadless area- Our Public Land!
---
Please visit our campaign news page for recent updates and information, including FBI and Grand Jury harassment of local citizen activists.
---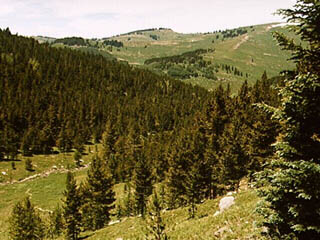 The Vail Category III Expansion:
A Disaster for Wildlife,
A Disaster for Skiers,
A Disaster for the Vail Valley...
A Great Deal for Vail Associates, Inc.
Vailís Category III Expansion Proposal
The Forest Service has approved Vail Inc.ís proposal to build 4 lifts, clearcut 885 acres of ski trails, construct 12.2 miles of new roads and skiways, and build a 20,000 square foot restaurant in a roadless area south of Vail Mountain. All this despite widespread public opposition!
Vail Is Big Enough Already
Vail has the most terrain of any ski area in the United States, and markets itself as "the largest, most popular mountain resort in North America." Vail Inc. already manages 9,396 acres of ski terrain in Colorado: 4,014 acres at Vail; 1,625 acres at Beaver Creek, Bachelor Gulch, and Arrowhead; 2,020 acres at Breckenridge; and 1,737 at Keystone.
A Great Deal for Vail Inc... A Bad Deal for Taxpayers
Vail Inc.ís skiing operation made $291.2 million in revenues in 1997; $137 million from lift tickets. For use of our public land, Vail pays us back just 1 and 1/2 - 2 cents for every dollar of gross revenue (Vail thus keeps roughly $49 of every $50 lift ticket).
The Forest Service predicts the expansion will increase use of Vail by up to 220,000 skier days per year in 10 years, increasing revenues for Vail Inc. by tens of millions for lift tickets, restaurant receipts, etc., and inflating the value of Vail Inc.ís property in the Vail Valley.
The Vail CAT III Expansion Will Spur More Sprawl
In the last three decades, the Vail Valley has experienced dramatic population growth, and dramatic growth in the development of expensive second homes. This growth has destroyed winter range for big game, driven many middle income people out of the Valley, and put tremendous strain on transportation infrastructure.
The Vail CAT III expansion will make matters worse. The predicted increase in skier use of Vail will spur local growth and development, leading to more traffic, more congestion, more pollution, more sprawl, an even greater need for affordable housing, more pressure on the available water supply, less wildlife habitat, and less unspoiled country.
While Eagle County officials have argued that the increase in skier use will almost certainly increase traffic, further crowd housing and spur sprawl, the Forest Service and Vail have assumed in their analyses that the increase in skier use will have no impact at all on the local economy! The Forest Service and Vail Inc. thus have clearly underestimated impacts on the County.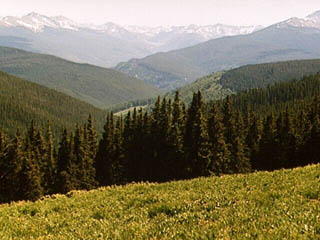 The Vail Expansion Will Destroy Wildlife Habitat
The expansion will cut the heart out of the 5,000+ acre Two Elk Roadless Area, an unprotected wilderness that provides calving ground for elk, an important refuge for wildlife, and habitat for the endangered lynx. The CAT III expansion will destroy 120 acres of feeding habitat and 90 acres of denning habitat for lynx. The Two Elk Roadless Area is a critical part of the wildlife corridor between the Eagleís Nest and Holy Cross Wilderness Areas.
If there is any critical lynx habitat in the state, this is it!
-Colorado Division of Wildlife (CDOW) biologists
Vail Inc. and the Forest Service have tried to silence wildlife experts on the expansionís damaging impacts. When CDOW biologists criticized the Forest Serviceís conclusion that the project might be more harmful to lynx than predicted, the Forest Service and Vail Inc.ís attorneys told CDOW to "avoid, if at all possible, making further comments in writing."
The Gilman Tract: Vail Inc.ís Real Plans?
Vail was recently forced to admit it has an option to buy 50% of a 4,000 acre tract of private land known as the ĎGilman tractí just a mile from the Vail CAT III permit boundary. If Vail Inc. obtains the tract, it would open the door for them to build ranchettes, more ski terrain, or a new gateway to Vail Mountain via CAT III, all of which would spawn more traffic and sprawl south of Minturn. Opening a new gateway through Gilman would permit Vail Inc. to escape the current cap on skier use of Vail Mountain, a cap Vail Inc. agreed to in order to limit impacts on the town of Vail. Vailís own experts have predicted that development of the Gilman tract could have "significant wildlife impacts," including harm to lynx and elk winter range...
The evidence clearly shows that Vailís CAT III expansion has nothing to do with skiing, only developing more ski-in, ski-out real estate.
Donít buy that Vail ski pass!
For more information, call 303-492-6870
---
Outside Links:
Information about the expansion:
Vail Associates (VA) and Vail Resource Development Corporation (VRDC):

Vail Associates Profile ("The company operates Vail Mountain, the largest single ski mountain complex on the continent; as well as Beaver Creek Mountain, a family-oriented mountain resort; Breckenridge, Keystone, and Arapahoe Basin resorts.")
Vail Associates stock information (follow this link to cast a "Very Negative" vote of confidence in their stock.)
Colorado Division of Wildlife
Media:
---
You are the [an error occurred while processing this directive] visitor since I reset this counter on 10/22/98 (+1600).
---
Please send comments or suggestions to Mike Lewinski at: