By BRIAN HANSEN
Colorado Daily Staff Writer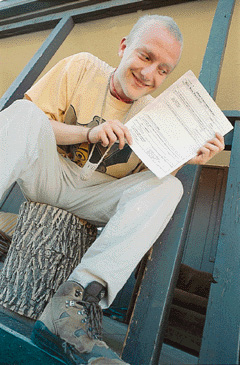 Another member of Boulder's Ancient Forest Rescue group has been ordered to appear before the federal grand jury investigating last fall's Vail arson, but the defiant environmental activist says he won't cooperate with officials running the "politically motivated" probe.
Kyle Turner, 19, is a former CU student who currently attends the Boulder-based Rocky Mountain Center for Botanical Studies. While no longer a CU student, Turner has maintained his connections with campus environmental groups, including AFR and the Rainforest Action Group.
Turner told the Colorado Daily that two FBI agents came to his home on the afternoon of Feb. 8 and asked him if he wouldn't mind answering a few questions. When he refused, he said, the agents promptly presented him with a subpoena.
Turner is slated to appear before the top-secret panel -- which has been reportedly meeting in the Denver federal court building at 1929 Stout -- at 8:30 a.m. on Feb. 25.
The young environmental activist maintains that he knows "absolutely nothing" about last October's devastating arson, which caused $12 million in damages to the Vail ski area. But he said he knows exactly how he'll deal with the federal officials conducting the probe.
"I'm not going to comply with them -- I'm not going to answer any of their questions," Turner said. "I'll show up to make a statement, and I'll tell them they're out of line with their efforts to disempower a progressive movement, but I'm not going to tell them anything.
"I don't have anything to tell," Turner quickly added.
Turner is at least the third AFR member to be subpoenaed before the grand jury. A female CU student who wishes to remain anonymous testified before the panel on Jan. 28. But unlike his colleague who has chosen to remain silent, Turner said he thought it was a "good idea" to talk to the media about the arcane situation.
"I don't think most people know what's really going on," he said. "I think it's important for the public to know what the FBI in contemporary and past America is doing."
Turner noted that there is now extensive documentation proving that the FBI infiltrated and attempted to destabilize a host of "progressive movements" over the past few decades, including the Black Panthers, the American Indian Movement and the anti-Vietman War movement.
"Now I think they're doing that to (the environmental movement) because we stand against the corporate greed that controls governments and their people," he said. "Transnational corporations have grown to such a status that they're above every law.
"They control our minds. They shape our world," he added.
Turner places Vail Resorts, Inc. in this notorious category, because the ski area "sacrifices local wants and needs to make more money."
"They're destroying forest ecosystems unnecessarily and they're getting bigger and bigger and bigger," Turner said of VRI, which is, in fact, the nation's largest ski resort. "They're becoming a super-corporation."
Turner's characterization of VRI is very similar to that expressed by the so-called Earth Liberation Front, the enigmatic, leaderless group that claimed responsibility for the arson shortly after it had leveled the luxurious Two Elk Lodge Restaurant and several other structures.
"Putting profits ahead of Colorado's wildlife will not be tolerated," declared the ELF's untraceable post-fire e-mail message. "This action is just a warning. We will be back if this greedy corporation continues to trespass into wild and unroaded areas."
Just 72 hours before the fires erupted across the mountaintop, VRI had begun clearing trees for a controversial expansion into the pristine Two Elks roadless area. AFR and other environmental groups had long decried the expansion, saying it would destroy a critical wildlife habitat and the best lynx habitat in the state.
But unlike the violence-condoning ELF, Turner and his AFR colleagues say they adhere to a "strict code" of non-violence.
"Non-violence is a spiritual way of life," Turner said. "It's about love and peace and simple interactions everyday."
Turner said he doesn't know why federal officials want to question him. But he acknowledges that he was camping in the Vail area with a number of AFR colleagues on the night that the gasoline-induced flames exploded across the mountaintop.
Turner and other AFR members have previously told the Colorado Daily that they were in the Vail area to conduct some sort of non-violent civil disobedience protest. They insist that there was never any talk of violence -- something that would have been very conspicuous.
"If anybody advocates a violent act at an AFR gathering, we just assume they're an agent and expel them immediately," said CU math professor Marty Walter, one of the group's original founders.
Walter, who says he's been a hard-core environmental activist for more than 30 years, said he's never heard of the ELF. Like Turner, he says he doesn't know anything about the Vail arson. But he said there are "lots of possible explanations."
"Consider what the political fallout of this arson has been," he said. "We had a very successful campaign going. The only way you can get the public to turn on environmentalists is to frame them as terrorists.
"If I had a million dollars, I'd hire a team of independent investigators to look into the case myself," he said, his voice trailing off.
Turner didn't shy away from the point.
"I think the FBI did it (set the fire) to target the environmental movement and take it down," he said. "They've certainly done it before."
Asked if the FBI had or ever would infiltrate organizations with agent provocateurs for the purpose of inciting violence, FBI spokesmen Gary Gomez said, "I will not comment on rhetoric."
---
Please send comments or suggestions to Mike Lewinski at: