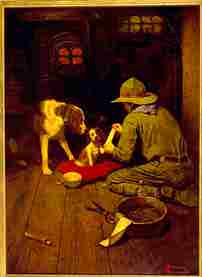 A Scout is Kind
"Pass It On"
Rev. Henry Burton
1840-?
"Have you had a kindness shown?
Pass it on;
'Twas not given for thee alone,
Pass it on;
Let it travel down the years,
Let it wipe another's tears,
'Til in Heaven the deed appears -
Pass it on."
Troop 61 Home | About Troop 61 | Calendar | Newsletter | Patrols | Public Service | Supporters |
BSA WWW Sites
Revised November 1, 1997
questions & comments to: Troop 61
URL http://bcn.boulder.co.us/comunity/scouts/troop61/t6197junthe.htm