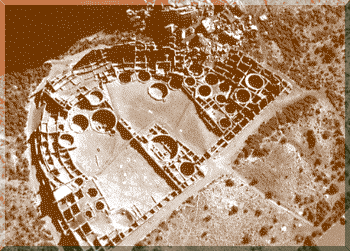 Pueblo Bonito, Chaco Canyon
"....I could lay out the North Road with three poles, a box of truck flares, fifty feet of rope and a troop of Boy Scouts."
Steve Lekson, 1997,
archaeologist, University of Colorado, Boulder,
personal communication


The Great North Road Hike: On March 23rd, Troop 61 camped at Angel Peaks, and were truly privileged to view the lunar eclipse to the East and Hale-Bopp to the Northwest. The next morning, Troop 61 began its hike from Farmington, NM to Chaco Canyon; We still hope to be the first Boy Scout troop to hike the length of the Anasazi "Great North Road," but it won't be this year. After hiking 7 miles, a snowstorm and drop in temperature not predicted by the local weathermen caused the leaders to pull the scouts out of the field for one night to guard against hypothermia. We packed for warm weather, not cold - a lesson learned.

The boys were willing and brave, but as adults we couldn't justify putting them at risk. As temperatures continued low with snow in the area the next day, it turned out to be the best decision.

After one night in a hotel to warm up with hot showers and pizza, on Tuesday, the "Chaco Walk" evolved into a very enjoyable "Anasazi Tour." Troop 61 toured the Salmon Ruin, and little-known sites including an Anasazi petroglyph locale, and a Navajo "pueblito" the Frances Canyon Ruin. Tuesday's highlight was camping (courtesy of Mr. Tommy Bollack) next to the Sterling Site. On Wednesday morning, the scouts toured the site, one of the latest, if not the latest Anasazi site on the San Juan River in New Mexico.

On Wednesday, Troop 61 drove to Chaco Canyon where we visited Pueblo Bonito, the Chaco museum, and other ruins. On Wednesday night, the Troop was treated to a lecture on ancient and modern astronomy by G.B. Cornucopius, a park ranger and astronomer who also set up a telescope to view the Hale-Bopp comet, Mars, and the Pleides. It was fascinating to learn the role of astonomical ritual and ceremony in helping ancient societies successfully adapt to their environment before written words overtook story telling.

Thursday, the troop hiked the Pueblo Alto trail above Chaco Canyon, a pleasant and beautiful 5 1/2 mile hike. At Pueblo Alto, we viewed the Southern end of the Great North Road and the great plaza where fires could be seen from Huerfano Mesa. Thursday night, in warmer temperatures, the troop picked up a few last frost points before leaving Chaco Canyon on Friday morning.

Troop 61 would like to thank all of those individuals and businesses that made this trip possible, and to assure everyone that "WE'LL BE BACK!" We're already plotting a return trip for early SUMMER 1998.

Special thanks go to Garmin International for loaning us a GPS, without which we might have strayed off course; to 360 Communications for loaning us a pair of cellular telephones without which our ground support would not have been able to find us during the snowstorm; to our superb ground support ("What Windmill?") without whose herculean efforts a bad situation would have become dangerous; to Chaco Canyon for all their support; to the Navajo Nation for granting us camping permits; and to Mr. Tommy Bollack for allowing the troop to camp on his beautiful ranch. Thanks also go to all the contributors who helped us purchase the troop trailer, without which the trip would not have been possible, and to the companies that contributed packs and a water filter. If we have left anyone out, please forgive us, it is wonderfully long list of supporters.