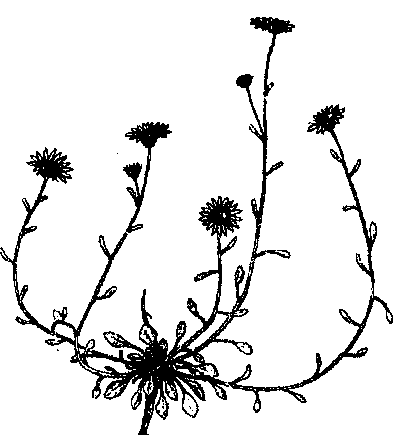 The Cedar Mesa Project
A Lexicon of Local Words
Return to The Cedar Mesa Project Home Page.

\
---
This region has a number of unique words and names; here is a brief list of some common ones plus some archeological terminology to help get you started.
Select a letter from the following table to go to the section with that word.
---

Letter A

Algonquian - A language family spoken by the Arapahoe and Cheyenne peoples.
American peregrine falcon - one of three threatened species in the area.
Anasazi - A people who lived in the Four Corners area from around B.C. 1500 up to around A. D. 1300. They are believed to be descendants of Asians who crossed from Asia to Alaska during the last ice age. The name is from a Navajo word that means "Ancient Ruins" or "Ancient Enemy."
Ancient Mokuche - Another term for the Basketmaker People.
Archaic People - Nomadic hunterer/gatherer people who lived in the area from around B.C. 6500 - B.C. 1500.
Archeological Record - the imprint left on the landscape by past communities and cultures.
Archeological Sterilization - the process of stripping an archeological landscape of its cultural richness.
arroyo - A deep gully cut by an intermittent stream; a dry gulch.
Artifact - something made and/or used by humans that can be picked up and moved around.
Athapascan - a language family that was spoken by the Apache and Navajo
atlatl - A spear-throwing device usually consisting of a stick fitted with a thong or socket to steady the butt of the spear during the throw. [Nahuatl, from atla, to throw.]
Athapascan - a language family spoken by the Apache and Navajo peoples.
Aztecs - a civilization that dominated Central Mexico from A.D. 1300 to A.D.1520 when they were conquered by the Spaniards.

---

Letter B

Bald eagle - one of three threatened species in the Cedar Mesa area.
Basketmaker I era - from B.C. 1500 to A.D 200.
Basketmaker II era - from A.D. 200 to A.D 500.
Basketmaker III era - from A.D 500 to A.D 750.
Basketmaker People - Early culture from around B.C. 1500 to A.D 725. Believed to be forerunners of either the Anasazi or the Fremont peoples.
Chichimecs - Wandering tribes in Central Mexico that occupied the Teotihuacan valley when the Toltecs disappeared.
cryptobiotic - dark, lumpy, crusty, knobby, castle-looking soil.
cupole - A small cup-shaped depression packed into vertical or horizontal surface of a rock.
desert varnish - A black or brown stain on the boulders and cliffs in the desert areas which is caused by rainwater carrying manganese or iron oxides.
feature - something made by humans that cannot be easily carried off.
flash flood - A sudden rainfall that can cause dry drainages to become flooded with water in a few minutes.
Fremont People - Native American culture that occupied Utah, Western Colorado areas north of the Anasazi homelands.

---

Letter G

Giardia - An infectious disease that is transmitted in water. This is the main reason all drinking water in the desert areas must be treated before use.
glyph - a figure or symbol that is engraved, incised, pecked or drawn into a rock surface. [From the Greek 'gluph,' carving, from gluphein, to carve.]

---

Letter H

Hopi - The name of a modern Native American group. The name means "The Peaceful People."
hyperthermia- Unusually high body temperature.
hypothermia- Abnormally low body temperature. [hypo is from the Greek word gwher = heat and therm means heat.

---

Letter I

---

Letter J

jacal - A thatch-roofed hut made of small wooden posts, wattle and daub found in Mexico and the southwest United States. [American Spanish, from Nahuatl (Aztec) xacalli : xamitl, adobe + calli, house.]

---

Letter K

Kisaante - another term for the Pueblo People.
kiva - An underground or partly underground chamber in a Pueblo village, used by the men especially for ceremonies or councils. [Hopi k¡va.]
kokopelli - The hunchbacked flute player one sees on Anasazi rock art and pottery.

---

Letter L

---

Letter M

Man Corn - from the Nahuatl (Aztec) word tlacatlaolli, "man corn," which meant "sacred meal of sacrificed human meat, cooked with corn."
mano and metate - The mano is a hand-held stone or roller for grinding corn or other grains on a metate. [Spanish mano, from Latin manus, hand.]
mesa - A broad, flat-topped elevation with one or more clifflike sides, common in the southwest United States. [Spanish, table, mesa]
Mexican Spotted Owl - one of three threatened species in the area.
midden - A refuse heap found by a prehistoric ruin. [Middle English midding, of Scandinavian origin.]
Mokuche - "Owl Eyes Uncle" - Navajo for Hopi
museum rock - a collection of artifacts removed from their original location and left in a prominent place by an archeological site.

---

Letter N

Olla - A large pottery jar with a wide mouth and a bulging base that was used for cooking and water storage.

---

Letter P

Paayuch - Ute "Hill People"
Paiutes - corruption of Paayuch.
petrogylph - A carving or line carved or pecked on rock, especially one made by prehistoric people.
pictograph - A picture representing a word or idea; a hieroglyph. A record in hieroglyphic symbols. [Latin pictus, past participle of pingere, to paint]
Pithouse - The living space of the Anasazi during Basketmaker times.
Point - Sharp, usually chipped stone tips that were used for spears, arrows and darts.
potsherd - A fragment of broken pottery, especially one found in an archaeological excavation.
Preferential collecting - removal of only a certain class of artifacts in preference to other classes.
Provenience - The source or origin of an artifact, including its surrounding context.
Pueblo I era - A.D. 750 - A.D. 900.
Pueblo II era - A.D. 900 - A.D. 1150.
Pueblo III era - A.D. 1150 - A.D. 1350.
ramada - 1. An open porch. 2. An openwork trellis, constructed over a walkway, onto which climbing plants are trained. [Spanish, from rama, branch.]

---

Letter S

Site - a location that contains clustered and/or concentrated archeological evidence.
slickrock - The smooth, sloping and usually light colored sandstone that one finds on the canyon walls.

---

Letter T

Toltecs - "those who are civilized" - a civilization in Central Mexico from A.D. 500 - A.D. 1100.

---

Letter U

Ute <-> Nuche - "Two Leggeds."
Uto-Aztecan language family - spoken by the Aztec, Bannock, Comanche, Paiute Shoshone, and Ute peoples.

---

Letter V

---

Letter W
---
Return to Cedar Mesa home page.
---
URL of this page: http://bcn.boulder.co.us/environment/cacv/cacvword.htm

Revised '9-Jun-2001,11:10:14'

Copyright &copy1996, 1999 SCCS.

---