City of Boulder/USGS Water Quality Monitoring

Boulder Creek Watershed
Snowtel Snow Pack Monitoring

The following map provides access to the automated USDA SNOTEL stations within Boulder and Saint Vrain watersheds. If javascript is enabled in your browser the name of the station will be displayed in the text box below. Select on the site marker to access an interactive graphing tool for that site.
Additional Snow Pack links are listed below . During the pack accumulation season BASIN also posts snowpack reports from CU's INSTARR Mountain Research Station.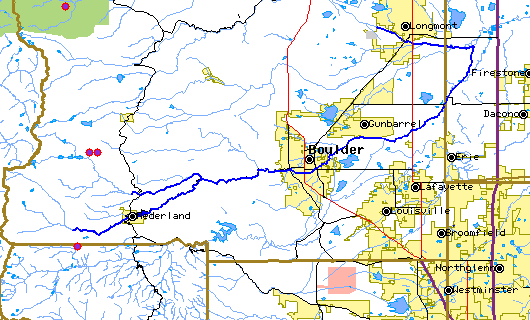 ---
INVITATION BASIN is a community project actively seeking public participation. We appreciate all feedback and welcome comments, suggestions and contributions. To find out more about how you can be involved, click here.
---
BASIN is funded through the US EPA EMPACT Program
---
Home | Site Map | Glossary | Bibliography | Contributors
About BASIN | Attribution | Feedback | Search


Last Page Update - Tuesday December 27, 2005