---
Advisory posted for recreational use of Boulder Creek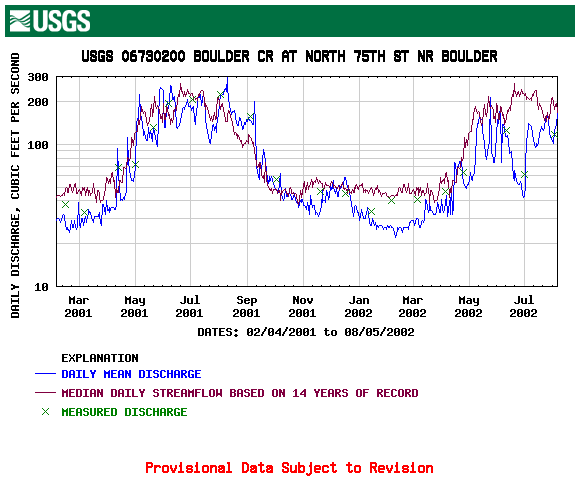 Drought conditions can lead to many secondary effects. Due to historically low precipitation, flow rates of Boulder Creek during the summer of 2002 have been much lower than in the recent past (see figure; from the U.S. Geological Survey). These low flows have caused concern about the water quality of Boulder Creek, because there is less water to dilute pollutants. Therefore, concentrations of various water quality constituents may increase.
Of particular concern in Boulder Creek is fecal coliform bacteria, a set of indicator organisms found in the digestive tract of humans and other warm-blooded animals. The presence of these organisms often indicate water contamination by mammalian fecal matter and may indicate the presence of other bacteria potentially hazardous to human health. High levels of fecal coliform bacteria increase the risk of developing illness from recreational contact.
The City of Boulder Public Works department and the Boulder County Health department have been closely monitoring fecal coliform levels in Boulder Creek during this summer's low flow conditions. In July of 2002 the levels of this constituent had frequently risen to levels exceeding state standards for primary (swimming and wading) and secondary (streamside recreation) contact. Accordingly the Boulder County Health department has called a public advisory regarding recreation in and near Boulder Creek. The Boulder County Health Department has issued the a press release including the following statement:
The Boulder County Health Department, working in cooperation with the City of Boulder, has determined that advisory signs will be placed along high-use sections of Boulder Creek due to recurring high bacterial levels in the creek. Testing by county staff has shown that bacterial levels have exceeded established standards for recreational use areas. Although Boulder Creek is not an officially designated swimming area, such as Boulder Reservoir, it is frequently used for kayaking, tubing, and wading. Signs to be posted will contain the message: "Unsafe bacteria levels in Boulder Creek may occur at any time. Be advised not to drink the water. Boulder County Health Department 303 441-1190.

Notice signs will be posted at creek access points between Eben Fine Park and 30th Street and will remain up for an indefinite period, as long as monitoring continues to show bacterial contamination. County and city staff continue to investigate the source(s) of contamination. At this time, it is believed that the most likely source of contamination is waste from wild animals and/or domestic pets. Low water levels due to current drought conditions have contributed to an increased concentration of contamination this summer.
Additional information is available from the BASIN pages listed below. Specific questions should be directed to Boulder County Health Department at (303-441-1190).
---
INVITATION BASIN is a community project actively seeking public participation. We appreciate all feedback and welcome comments, suggestions and contributions. To find out more about how you can be involved, click here. Help BASIN serve your needs, take our "10 questions in 10 seconds" survey.
---
BASIN is supported by the US EPA, the City of Boulder, the Keep it Clean Partnership, BCWI and BCN
---
Home | Site Map | Glossary | Bibliography | Contributors
About BASIN | Attribution | Feedback | Search

Last Page Update - Tuesday December 27, 2005