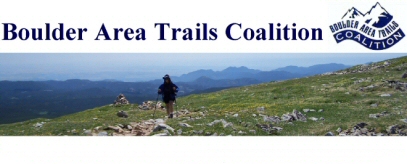 Board of Directors
Homepage - Brochure - Application - Newsletters - Archives - Links - Weather - Board
---

The Board meets the 2nd Thursday of each month.
The meetings begin at 7PM and typically last about two hours.
Board meeting are usually held in the Sanitas meeting room at the Boulder Outlook.
Contact any board member to verify meeting locations and agendas.

BATCO members and the public are welcome to attend. Please join us!

---
Guy Burgess
Mike O'Brian
Chris Morrison
Suzanne Webel

---
---
BATCO E-mail List
We maintain an e-mail list of individuals who have expressed an interest in trail related issues. We use the list for announcements that we think may be of immediate interest. We do not share the list with other organizations or allow it to be used for commercial purposes. To be included in our notices, send a note with your e-mail address to Contact BATCO .
---
Mailing Address: BATCO, PMB 201, 1705 14th Street, Boulder, CO. 80302
Telephone Contact: Suzanne Webel (303) 485-2162