</P>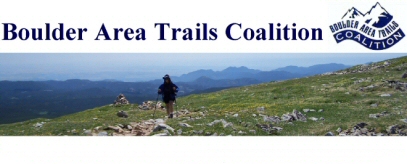 Daily Camera BATCO Map Article
Homepage - Brochure - Application - Newsletters - Issues - Links - Weather - Board
---
Trails map 10 years in the making

By Clay Evans, Camera Staff Writer

January 13, 2006

Given how many trails crisscross its mountains, plains and valleys, it's surprising there hasn't ever been a truly comprehensive trail map of Boulder County.

There have been mountain biking maps that ignored running and hiking trails, and excellent maps that - for whatever reason - failed to cover the county from border to border. But never one covering every "designated" trail in the entire county.

Until now. After a 10-year effort, professionally trained geologist, equestrian, trail advocate and self-proclaimed "map geek" Suzanne Webel, with an assist from her colleagues at the nonprofit Boulder Area Trails Coalition, has produced the coalition's "Comprehensive Trail Map of Boulder County."

"There's never been a map that shows everything that everybody wants to know," Webel says.

The map shows every designated trail, with a key describing what kind of use is allowed, all county roads, all public lands by category and all private lands. On the back, the map offers color photos and a wealth of information, including etiquette guides for bikers, equestrians, skiers and dog guardians, a brief history of the county - starting "about 12 million years ago" - and information about trails and trail advocacy.

"This new map is more complete than other maps I have seen," says longtime Boulder trail runner Peter Bakwin. "It highlights many of the obscure county roads that are often used (by those in the know) as connectors between trails and trail networks. It also shows where all the public lands are in the county, and which agency owns and manages those lands. The trail type (such as single track, 4WD road, paved path, etc.) is also indicated by color coding. There is a ton of useful information on this map."

Coming up with such an information-packed document was no easy task. Webel began working on the project in 1996, in conjunction with the formation of the Boulder Area Trails Coalition, painstakingly consulting existing maps and drawing in trails. She applied to Great Outdoors Colorado for money, but found that the organization - funded by state lottery money - didn't have any grants for mapmaking.

"I told them they needed to create a (grant) category for maps," Webel says. In 2001, Great Outdoors Colorado did just that, and she was again on her way.

But in that five-year interval, mapmaking tech had come a long way. The meticulously hand-drawn maps she'd created earlier - for which she consulted more than 100 existing maps - now had to be done electronically, based on electronic GIS surveys, topo maps and highway maps.

Once she'd completed the map, Webel went back to all relevant agencies to check for accuracy.

"Of course, we knew that the day we went to press there would be changes," Webel says. She says the coalition hopes to have a second edition ready by 2007.

The map has gotten support from many quarters, from homebuilder McStain Enterprises Inc. to ardent open-space advocates. That's surprising, perhaps, given recent controversies over human use of trails and open space. Webel says members of the Boulder Open Space Board of Trustees even applauded her when she presented it in December.

"Maybe I've gotten some credibility after all these years," she says. "They liked it because it shows only designated trails. I think they appreciated that."

The map is not just a valuable tool for trail users: Net proceeds from sales will go into a coalition fund to support building new trails in the county.

"We anticipate that land agencies could come to BATCO and say, 'We'd like to build this trail, but we don't have the money,'" Webel says.

The Boulder Area Trails Coalition also plans to develop partnerships with outdoor businesses to boost the fund, she says.

Contact Camera Staff Writer Clay Evans at (303) 473-1352 or

evansc@dailycamera.com.
---