Water Costs ... from Nearly Nothing to Astronomical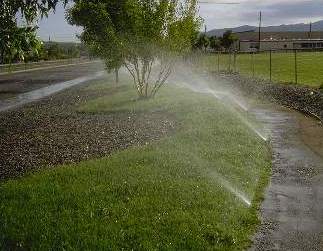 Photo copyright Jim Knopf
The range of water costs is spectacular, and it affects landscape water bills and water use dramatically. This is clearly illustrated by comparing the hourly costs of using local drinking water to irrigate landscaping.

The Hourly Cost of Irrigating Landscaping with Drinking Water:
(Based on two 5/8 inch garden hoses at 60 pounds-per-square-inch pressure)

City Cost / Hour

Denver, CO $.80
Boulder, CO $2.15
Thornton, CO $2.11 (in city) $ 3.16 (outside city)
Lafayette, CO $3.40 (in city ) $6.80 (outside city)
Pine Brook Hills, CO $18.50
Santa Fe, NM $42.00 (at highest '96 emergency rate)
Roxby Downs, Australia1 $3.20 (US) ...$5.60 (Aus)

Notes 1 Full cost of desalted water.
2 Subsidized cost to homeowners.
US costs are subsidized, not full cost.

Sources: Information is from the cities listed.
---
INVITATION BASIN is a community project actively seeking public participation. We appreciate all feedback and welcome comments, suggestions and contributions. To find out more about how you can be involved, click here. Help BASIN serve your needs, take our "10 questions in 10 seconds" survey.
---
BASIN is supported by the US EPA, the City of Boulder, the Keep it Clean Partnership, BCWI and BCN
---
Home | Site Map | Glossary | Bibliography | Contributors
About BASIN | Attribution | Feedback | Search