---
September 22, 2000 - The recent wildfire near South Boulder Creek reminds us of how interconnected our lives are with the environment
Photo of burn area by Jim Stout


The Walker Ranch Fire, also referred to as the Eldorado Fire, began about 2 p.m. Friday, Sept. 15, 2000 and consumed some 1100 acres before it was completely contained on Wednesday, September 20th. There was no loss of life and no structures were burned. The Boulder Daily Camera reports that more than 500 people, 74 firefighting engines, 273,000 gallons of water and 133,000 gallons of fire retardant were used to bring the fire under control.

The burn occurred along and near South Boulder Creek west and north of Eldorado Springs State Park primarily on Boulder County Open Space land, but potentially impacts the drinking water supplies of the cities of Denver, Louisville and Lafayette which all draw source water for their treatment facilities from South Boulder Creek (see Boulder County openspace map of burn region).A Interagency Planning Group is being organized to address these and related issues.

Photo of diversion to Community Ditch along South Boulder Creek at Eldorado Springs by Jim Stout

One of the concerns that has emerged in the aftermath of the fire is related to the water quality impact of the fire retardant used in fighting the Walker Ranch Fire. In addition, there is a long term concern for the impact of runoff of debris from the burned area. The sediment load potentially has severe detrimental affect on water quality and aquatic habitat, particularly over the next two years. The State Forest Service is working on a re-vegetation plan and other agencies are forming a working group to address erosion control issues related to the fire. These agencies include City of Louisville and Lafayette, City of Boulder Open Space, Boulder County Open Space, Colorado Department of Health, State of Colorado Forest Service, Eldorado State Park, and Denver Water.

The city of Boulder's Water Quality and Environmental Services (WQES) office received a number of reports of dead fish in South Boulder Creek between US 36 and Baseline Road. On Monday staff had gone out to South Boulder Creek with two people from Colorado Division of Wildlife and had observed 4 dead trout of sizes ranging from 5 - 12 inches. It is unclear if the cause of the fish mortality was the fire retardant. However, information was received from the Colorado Division of Wildlife that a slurry bomber released a load of the fire retardant directly into South Boulder Creek and Denver Water had been asked to release water from Gross Reservoir in order to dilute the fire retardant that got into the creek. (See hydrograph showing release.)
If the fish kill was a result of the retardant, it is not known if the toxicity was from the material itself or from the chemical's uptake of oxygen in the creek. The Interagency Working Group has requested and received an information sheet on the fire retardant from the Jeffco Air tanker base and compared that with a US Geological Survey study on the toxicity of various fire fighting chemicals. The material used can be toxic under some conditions - the question would be what dilution ratios were used, and how quickly the material migrates to water. In addition to fire retardant delivered out of Jeffco Airport, at least two loads of slurry came from Grand Junction Airport. We are in the process of locating information regarding the materials used from Grand Junction. WQES initiated a monitoring program on September 20th, testing water at five sites along South Boulder Creek for a variety of parameters and will continue monitoring during the next rain or snowmelt event to look for signs of water quality degradation. A Field Specialist reported seeing healthy fish in the creek and no dead fish, and others he met reported the same. Monitoring results will be shared with anyone interested.
More information about the Eldorado Fire form the following sources:
Official information sources:
Boulder Daily Camera Coverage
---
NOTE: In October BASIN conducted an online seminar about Drought, Fire and Flooding with local and regional experts and interested citizens discussing the relationships between these topics and how they relate to the Boulder area. This discussion is archived on the BASIN forum area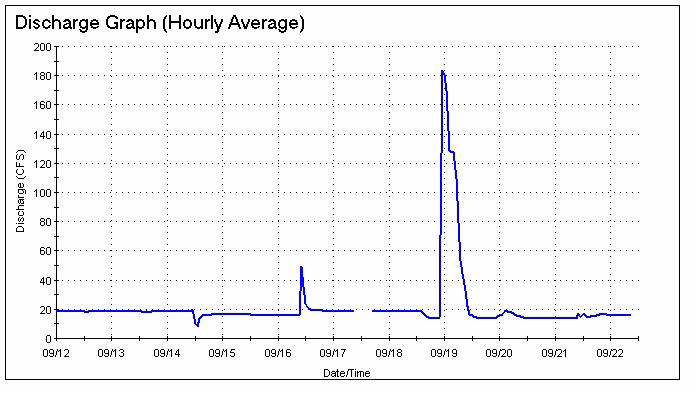 From the USGS Stream Gauge along South Boulder Creek below Gross Reservoir. Spike in graph indicates release to dilute slurry in creek.
---
---
INVITATION BASIN is a community project actively seeking public participation. We appreciate all feedback and welcome comments, suggestions and contributions. To find out more about how you can be involved, click here. Help BASIN serve your needs, take our "10 questions in 10 seconds" survey.
---
BASIN is supported by the US EPA, the City of Boulder, the Keep it Clean Partnership, BCWI and BCN
---
Home | Site Map | Glossary | Bibliography | Contributors
About BASIN | Attribution | Feedback | Search

Last Page Update - Tuesday December 27, 2005