---
August 31 - Sept. 4 - 1938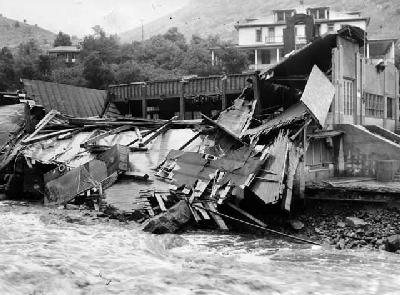 The former dance hall at Eldorado Springs Resort along South Boulder Creek
September 4, 1938. Photo copyright by the Denver Public Library.
Visit the BASIN Gallery for more historic images.
"This storm produced general rains over all of eastern Colorado. The largest amounts of precipitation occurred in the mountains where over 6 inches was reported west of Eldorado Springs. Boulder reported 3.62 inches of precipitation from 31 August to 4 September with 2.32 inches falling during 2 September. Eldorado Springs had 4.42 inches of rainfall. Approximately 80 % of the total precipitation falling in the South Boulder Creek basin fell in the late afternoon and evening of 2 September. The resulting flood, with a peak discharge of 7390 CFS arrived at Eldorado Springs at 10PM on 2 September. The peak gradually subsided as the flood moved downstream. A maximum discharge of 4410 cfs occurred near the mouth of Boulder Creek at noon on 3 September. Several buildings in Eldorado Springs were destroyed as a result of the flood eroding away their foundations. Numerous bridges were destroyed and the valley from Eldorado Springs to Boulder Creek and down Boulder Creek to the St. Vrain Creek was in shambles. This flood is the highest recorded flood on South Boulder Creek." From US Army Corps of Engineers, August 1969 Floodplain Mapping of Boulder Creek
Information compiled by Elizabeth Black.
---
INVITATION BASIN is a community project actively seeking public participation. We appreciate all feedback and welcome comments, suggestions and contributions. To find out more about how you can be involved, click here. Help BASIN serve your needs, take our "10 questions in 10 seconds" survey.
---
BASIN is supported by the US EPA, the City of Boulder, the Keep it Clean Partnership, BCWI and BCN
---
Home | Site Map | Glossary | Bibliography | Contributors
About BASIN | Attribution | Feedback | Search