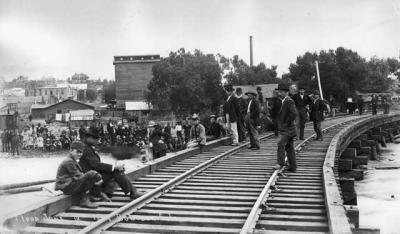 This image was taken by an unknown photographer during high water on June 10, 1897, a few short years after the devastating floods of 1894. This photograph is copyright by the Denver Public Library. For more information of this and other flood photos, go to the BASIN Gallery.
Before European settlers moved into the Boulder area in 1859, the region was vistited by numerous Native American peoples who traveled through the area on their nomadic seasonal journeys. Their impact on the local environment was minimal, in part due to their sparse numbers.
Within months of the first European settlement in the area, the local environment began to be changed significantly. Forests began to be cut down for fuel and construction. Mining activities altered the water quality of streams. And water development began to change the movement of water through the region.
Harnessed for mining and irrigation and later for hydroelectric power and municipal and industrial uses, water became key to the development of the Boulder area, with the seasonal flux of the hydrologic cycle and issues of water quality becoming important concerns for early European inhabitants of the region and modern residents of the area.