EXTIRPATED & DECLINING SPECIES IN BOULDER COUNTY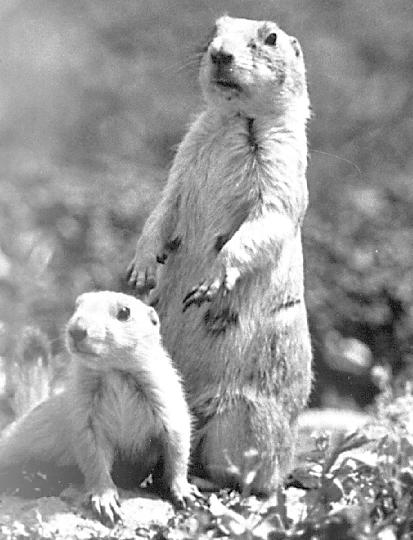 Other species to monitor in the plains: prairie dogs, ferruginous hawk. Prairie dogs are a keystone species which means that many other species depend on them within the food web, especially raptors (birds of prey such as the ferruginous hawk). Prairie dog colonies face a series threat from development county-wide.
PLAINS
Birds

Sharp-tailed grouse (E)
Long-billed curlew (E)
American bittern (D)
Burrowing owl (D)
Red-headed woodpecker (D)
Northern harrier (D)
Swainson's hawk (D)
Loggerhead shrike (D)
Northern bobwhite (D)
Long-eared owl (D)
Brown thrasher (D)

Mammals

Bison (E)
Black-footed ferret (E)
Pronghorn antelope (E)
White-tailed jackrabbit (D)
Preble's meadow jumping mouse (D)
Merriam's shrew (D)
COUNTY-WIDE
Mammals
Gray wolf (E)
Grizzly bear (E)
River otter (E)
Other speices to keep an eye on county-wide: elk (ability to migrate between high and low elevations), all native fish.
---
MOUNTAINS
Mammals
Lynx (E)
Bobcat (E)
Wolverine (D)

Birds
Barrow's goldeneye (E)
Mountain plover (E)
Northern goshawk (D)
Willow flycatcher (D)
Other species to watch in the mountains: bighorn sheep, boreal toad, northern leopard frog
---
Return to Extirpated & Declining Species in Boulder County