In the coming months BASIN plans to offer a wide array of environmental data streams and archives of environmental data sets.
This information can be accessed through our Datamap, or through the individual themes-- Natural Systems, Waterworks and Close to Home-- which will also offer background information and links.
Numerous image maps offering "clickable" access to real-time or recent information are planned throughout the BASIN website.
Specific environmental data will include:
Drinking water treatment (city of Boulder)

Wastewater treatment and effluent (city of Boulder)

Streamwater quality from throughout the Boulder Creek Watershed (city of Boulder and USGS)

A database of residential water use and conservation practices in the Boulder area (University of Colorado School of Engineering)

Storm event and landscape monitoring at the Environmental Center of the Rockies (University of Colorado School of Engineering)

A "virtual neighborhood" in the Wonderland Creek area where storm runoff will be monitored (University of Colorado School of Engineering)
| | |
| --- | --- |
| | Looking for current data on local environmental systems? Visit the BASIN Datamap. |
---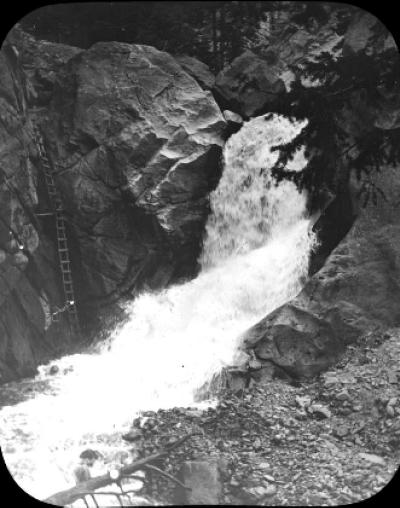 Boulder Falls photograph taken in 1919 by Philip Munz and made into a slide by George Fuller. From the American Environmental Photographs Collection, [aep-cos21], Department of Special Collections, University of Chicago Library. For this an other historic images visit the BASIN Gallery
---
Let us know what is of interest to you in terms of your local environment. Take a moment now to complete the BASIN Survey if you haven't already, or accept our invitation to become part of the BASIN network.