Geologic Cross Section of the Boulder Area

Excerpted from "Boulder, A Sight to Behold: Guidebook" (1976) by Donald D. Runnells,
modified by Sheila Murphy.
Graphics adapted from Runnells by Erica J. Keefe.
---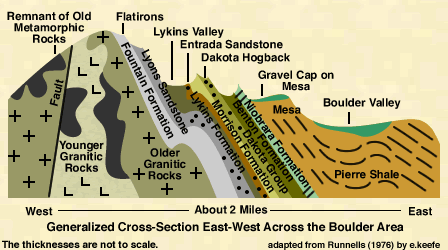 Simplified and generalized cross section east-west across the Boulder area. The thicknesses are not to scale, and the vertical scale is exagerated for emphasis.
---
Additional Geology Information
For more information about geology and mining in the Boulder area, see the BASIN bibliography.