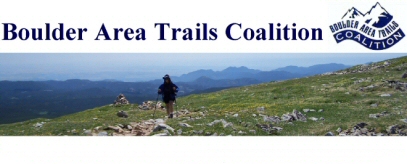 BATCO Comprehensive Boulder County Trails Map
Homepage - Brochure - Application - Newsletters - Archives - Links - Weather - Board
---
Once if you wanted to know all the official trails that exist in Boulder County, you would have to obtain more than a hundred different maps. Even then, you would miss some because not all jurisdictions produce maps showing their trails. You'd also have a jumble of information because the maps are at different scales, show different information, and offer no visible relationship between agency holdings and adjacent areas. You'd have to invest a significant amount of time tracking down all this material, and a fair amount of money purchasing all the maps (only a few small ones are free).
The new BATCO map solves your problems!
For the first time ever, there is now a single map showing all designated trails in Boulder County, with a colorful overlay indicating which public land agency owns and manages them. Trails are color- and pattern-coded to show routes open to various user groups, as well as the trail surface of each trail (such as single track, 4WD road, and concrete greenway). The map also shows urban bicycle routes and other recreational amenities (including trailheads, parks, campgrounds, fishing holes, golf courses, and recreation centers). The BATCO map enables you to visualize and select your trail experience before embarking on an adventure.
Added benefits are information about each agency's trail regulations and contact persons, suggestions for trail etiquette and safety, material about various outdoor and environmental organizations, and user-friendly sketches, photographs, and text pertaining to appreciating and protecting Boulder County's diverse natural resources.
Finally, BATCO has committed to investing a substantial portion of the proceeds from map sales on local trail project planning, construction, and maintenance. We will put our money where our mouths are, to improve the public lands we all know and love.
You can open low resolution views of the map at BATCO Map Montage (588K file) and BATCO Map Sample (160K file).
You can read a Daily Camera article about the map at January 13, 2006 Daily Camera Map Article.
The BATCO map is available at the following retail outlets:
You can order copies directly by printing one of the following forms and sending it to us:
BATCO Map Web Page Order Form.
---
BATCO would like to thank Colorado State Parks, McStain Neighborhoods, Starlight Farm, Vision Graphics, and an anonymous donor for their generous financial grants to ensure the success of this project. We received letters of support from many individuals and organizations, including Boulder County Parks & Open Space, the City of Longmont, the International Mountain Bicycling Association (IMBA), Volunteers for Outdoor Colorado, Denver Water, Leave No Trace, Colorado Mountain Club, USDA Forest Service Boulder Ranger District, Cycles of Boulder, the Boulder Map Gallery, Front Range Backcountry Horsemen, and BCHA. We would also like to thank Project Director Suzanne Webel, graphic designer Pat Jarvis for her expertise in making the back side of the map a piece of delightful "eye candy," and map gurus Stuart Watada and Farid Tabaian for their tireless work making the map a thing of beauty and a joy to behold.
---