Overview
Contaminants
Anatomy of a LUST (continued)
Leaks Commence
When a petroleum underground storage tank (UST) leaks, the petroleum seeps downward through the unsaturated soil to the water table. At the water table, the petroleum forms a pool, or lens, perched on the water because petroleum is less dense than water.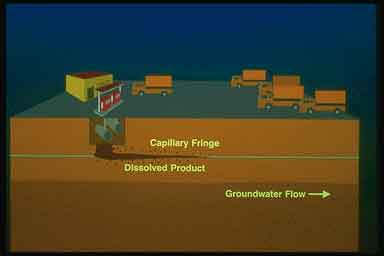 On the water table, the gasoline migrates in the direction of the groundwater flow. At the interface between the gasoline and the air in the soil, gasoline components are vaporized. At the gasoline-water interface below the gasoline lens, gasoline components are dissolved into the groundwater, resulting in plumes of various contaminants. The contaminants of greatest concern are benzene, toluene, ethylbenzene, and xylenes (BTEX) and methyl tert-butyl ether (MTBE). Most of the components of gasoline, long-chain hydrocarbons, are readily degraded by soil bacteria. The BTEX compounds are more resistant to degradation and of greater public health concern. Benzene, especially, is considered to be carcinogenic.

Detecting Leaks
In the past, leaks may have been detected by manual inventory control (checking gasoline levels with a dipstick) -- not a very sensitive method.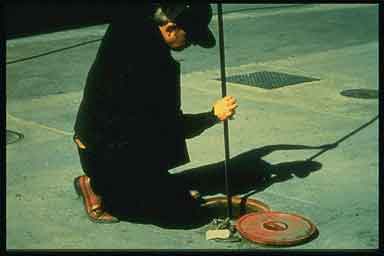 Because gasoline vaporizes into the soil air, gasoline vapors may have been detected (by the nose!) in the soil above the gasoline pool. Unfortunately, the prevalence of concrete at most gasoline stations inhibited the detection of gasoline vapors. In most cases, LUSTs are not detected until some adverse impact occurs; e.g., migration of the gasoline or vapors into nearby buildings or drinking water pumping wells.
Continued on the next page...
The EPA provides guidelines for leak detection and prevention.