Overview
Contaminants
Federal
UST Legislation
State Support
Cleanup Status
UST Definitions
Colorado
Oil Inspect Sec
UST Data
LUST Anatomy
Corrosion
Leaks
Site Character
Remediation
Source
Groundwater
New Tanks
Installation
Monitoring
Anatomy of a LUST (continued)
Site Characterization
Once detected, the first step in cleaning up, or remediating, a LUST site is to determine the extent of contamination of the soil and groundwater. The first step is often soil and sediment sampling using a hydraulically-driven sampling point (a "Geoprobe®," see photo below). With a Geoprobe® or similar device, many samples can be collected and tested for gasoline contamination in a relatively short time (e.g., 5 to 10 or more locations per day). Another method used for obtaining soil and sediment samples, hollow-stem auger drilling, is typically limited to about 3 locations per day, depending on the depth of the sampling. The rapid sampling allows decisions to be made in the field about new sampling locations.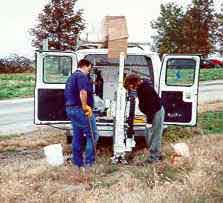 Gasoline contamination is often tested in the field using a photoionization detector (see photo below) that is sensitive to all types of volatile organic compounds. Concentrations as low as 0.1 parts per million can be measured in the air surrounding the sediment sample.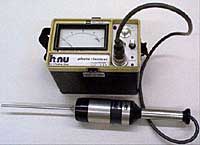 Using this information, the general direction and extent of gasoline migration can be determined, at least in areas of relatively shallow water tables. The next step is typically more detailed assessment of groundwater contamination via installation of monitoring wells. A hollow-stem auger drill rig (see photos below) is usually used for monitoring well installation. The shaft, or stem, of the auger is hollow, allowing insertion of sampling tools and the monitoring well.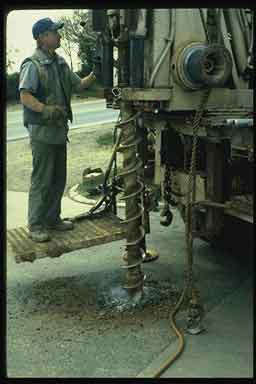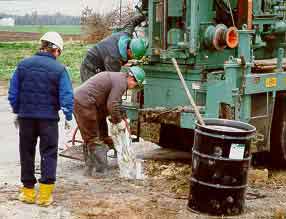 During monitoring well installation, more soil samples can be collected for analysis. Usually, a split-spoon soil sampler (see photo below) is driven by hammer ahead of the hollow-stem auger to collect undisturbed soil samples.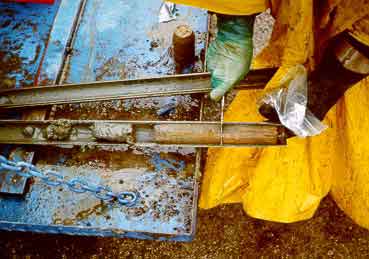 Once the monitoring well is installed and developed (a process of clearing fine particles from the well screen), groundwater samples can be taken for laboratory analysis. The composition of the groundwater samples often reflects the nature of the gasoline contamination -- a pool of pure-phase gasoline perched above the water table (see the clear tubes, or "bailers," in the photos below). Groundwater sampling at LUST sites often generates large quantities of hazardous waste that must be properly disposed (see bottom photo). Proper disposal usually involves incineration by a licensed hazardous waste disposal facility.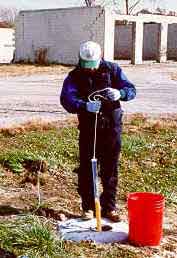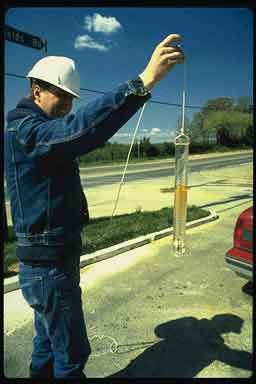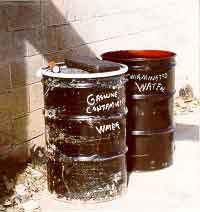 Continued on the next page...