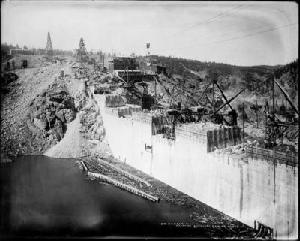 Beginning in 1859, inhabitants of the Boulder Creek Watershed began developing an intricate system of waterworks-- dams, reservoirs, ditches, pipes and treatment facilities-- to divert runoff from the watershed's natural system and use it for purposes of mining, agriculture, industry and municipal development. By capturing some of the peak runoff in the spring and summer months and storing the water for later in the year, the early water developers significantly changed the character and dynamics of the natural system.
One such waterwork was Barker Dam, built in 1909 (see photo above from Denver Public Library collection) by the Public Service Company of Colorado for the generation of alternating current electricity, although not at the dam itself.
For more on the hydroelectric systems in the Boulder area, see below. For historic images of the area around Barker Dam before and after the dam was built, visit the BASIN Gallery Near Nederland exhibit.
Other important waterworks include the city of Boulder's drinking and waste water systems. While originally much of Boulder's water originated in the high alpine basin near Arapahoe Glacier (now downgraded to a snowfield), today only a portion of the city's water-- around 40% on average-- comes from this protected watershed basin, which is off limits to the public.
Construction of Barker Dam, April 26, 1910 by L.C. McClure
Photograph copyright by the Denver Public Library.
For more information visit the BASIN Gallery.
---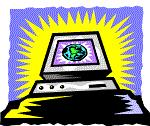 Beyond BASIN
Water Use