Find out about...

Tributaries & Watershed Address - Boulder Creek and its main tributaries are each unique in their own ways. Some, such as Four Mile Canyon Creek, run much of the year in the mountains but are dry ten months of the year through urban areas. All hold the potential and the promise of flash flooding, for the Boulder area is the number one flash flood hazard zone in the state of Colorado.

Find your Watershed Address on BASIN's Image Map of Boulder Creek Tributaries

Bear Creek
Boulder Creek
Coal Creek
Four Mile Canyon Creek
Goose Creek
Rock Creek
South Boulder Creek
Two Mile Creek
Wonderland Creek
What is a watershed address?
Where is the Boulder Creek Watershed?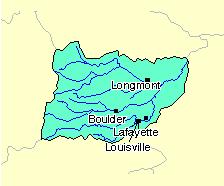 Image of St. Vrain Watershed courtesy of EPA Surf Your Watershed. Boulder Creek Watershed makes up the lower half of St. Vrain Watershed. See EPA Enviromapper for more information.

---
Other Nearby Watershed Links:

South of the Boulder Creek watershed, Big Dry Creek flows from Rocky Flats through Westminster and Northglen, joining the South Platte near Fort Lupton. The Big Dry Creek Association's website provides more information about this watershed.
Left Hand Creek forms the next watershed north of Boulder Creek and flows into Saint Vrain Creek south-east of Longmont. Left Hand Creek provides the major source for the Left Hand Water district which provides drinking water to about 14,000 Boulder County residents.
The Lefthand Watershed Oversight Group has formed to assess, protect, and restore the quality of the Lefthand Creek watershed, and to serve as a hub of communication about watershed issues through the fostering of stakeholder collaboration.
James Creek is a major tributory of Left Hand Creek which flows through the Boulder County community of Jamestown and provides its sole drinking water source. CU researchers are studying the effects of erosion and off road recreation on the James Creek water quality. The James Creek Watershed Inititaive is a citizens groups dedicated to engaging the community in protecting the quality of our drinking water and the surrounding forest ecosystem.
The Big Thompson River, site of a major flash flood in 1972, flows from Rocky Mountain National Park through the Big Thompson Canyon and the town of Loveland. The Big Thompson Watershed Forum offers background information on this important waterway.
Article in Westword Magazine on the St. Vrain Creek that has its headwaters in the Rocky Mountain National Park and the Indian Peaks Wilderness and flows through the towns of Lyons and Longmont.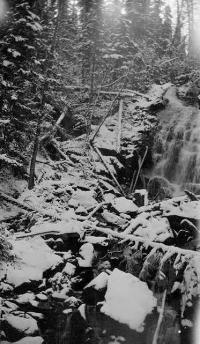 "We all live downstream" is a phrase currently popular in environmental circles. And there is truth to this saying, even for the Boulder area which is located at the headwaters of the Mississippi River Basin. The city of Boulder receives some of its drinking water from Barker Reservoir, which receives waste water discharge from the town of Nederland. Even the pristine mountain lakes are being impacted by air pollution from power plants and exhaust from cars. By coming to know our local watershed we can become more aware and responsible for protecting water quality, conserving water resources and being prepared for the inevitable flash floods that will occur on Boulder Creek and its tributaries.


The Boulder Creek Watershed is a natural "container" encompassing some 440 square miles and extending from the Continental Divide to the high plains. The St. Vrain watershed is slightly larger, and the two combined watershed drain nearly 1000 square miles of the Colorado Front Range. While the natural system has been significantly impacted by human activity since 1859, the essential natural processes-- particularly seasonal changes and basic environmental systems such as the hydrologic cycle-- continue, influencing our everyday lives in countless ways.

BASIN is cataloging available time-relevant data collected under various government and acedemic environmental research and monitoring programs. To facilate access to this information BASIN has constructed a spatial data catalog which maps the available online data resources provided by the BASIN project or available elsewhere on the internet. Many of these reources are discussed in greater detail below. If you know of other environmental data resources that are available on line or would like to help bring new resources online please contact the basin team.
WATER QUALITY

STREAM FLOW WEATHER & CLIMATE FLASH FLOODS IN THE BOULDER AREA
Also see BASIN History: History of Flash Floods in the Boulder Area

Background Information
Find your Watershed Address: Image Map of Boulder Area
What is a watershed address?
Where is the Boulder Creek Watershed?
National Watershed Units (USGS Maps)
---
Beyond BASIN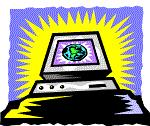 Weather Links
Overview
Views of Natural System
Water Quality & Indicators
Flood Preparedness
Wildfire
Drought
BCN Weather Center
Access to local, metro, state, national, international and extraterrestrial weather forecasts.
National Weather Information Network
Maintained by the National Weather Service, the NWIN offers a range of current weather news including up to the minute satellite and radar images, warnings and watches, and local weather forecasts.
The Weather Channel
The Weather Channel, the only 24-hour television network, is the premier source for weather reporting and preparedness information.
Overview
What is water? (from Hydrology Primer)
The Big Picture (from GLOBE)
Hydrologic Cycle (from Hydrology Primer)
Hydrologic Cycle(from Water Knowledge)
Hydrologic Cycle (Purdue)
River Channels, Sediment, and Runoff
Overview of surface water (from Hydrology Primer)
Major Characteristics of a River Stream
What is a stream?
An overview of flows (GLIN)
How a River Flows
Links to Glossaries of Water Resource Terms
NWS Glossary of Hydrologic Related Terms
Snow Surveys
Colorado Geology
Views of Natural System

BASIN - Public Environmental Data Monitoring Sites
Boulder County Map
BASIN - US Census Tiger Map Database
Boulder County USGS Flow Monitoring Gauges
Daily U.S. Stream Flows (USGS)
USGS Water Resources in Colorado
Boulder County GIS Sites
Boulder County GIS Downloadable Maps
EPA Enviromapper
USGS Platte River Project

EPA Water Quality Indicator Survey
City of Boulder Water Quality Contact Page
Healthy Water, Healthy People from Montana State University
OTIS; a mathematical simulation model (USGS)
Oregon Water Quality Index
Mecklenburg, NC Environmental Indicators
Rouge River (MI) Water Quality
WQA Glossary of Terms
Giardia lamblia - primary infectious concern in natural waters
Aquatic Biology
Colorado Aquatic Organisms
Colorado Native Fish Species
Flood Preparedness
City of Boulder Flood Preparedness
City of Boulder Flood Mapping application
Federal Emergency Management Agency
FEMA is an independent federal agency with a mission to reduce those risks which increase the threat to people and property in the face of disasters. Their website offers a multitude of facts about disaster preparation and recovery, as well as current news stories about weather and disasters. FEMA also administers the National Flood Insurance Program
National Safety Council
The National Safety Council is a nonprofit organization devoted to promoting safety awareness. Find here a variety of public service announcements regarding disaster recovery including flood safty .
National Oceanic and Atmospheric Administration
NOAA is a part of the Department of Commerce, and is charged with observing changes in the earth's environment, as well as the conservation and management of America's coastal and marine resources. Discover more about El Niño and La Niña here, including definitions and how they affect us. NOAA also provides flood watches, warnings and severe weather warnings
American Red Cross
The American Red Cross dedicates itself to offer assistance in the face of disasters. At this site, find out about all the services and information, particularly in times of disaster, which the Red Cross offers. Along with general prepardness advice the Red Cross provides specific guidelines for flooding

Other Flood Links
Floodplain Management Association
National Hydrologic Warning Council
Southwestern Association of ALERT Systems
Urban Drainage and Flood Control District
National Association of Flood and Stormwater Management Agenices
United States Geological Survey Flood Information
National Weather Service Office of Hydrology
National Weather Service Integrated Flood Observing and Warning System
Big Thompson Flood, Twenty Years Later by Eve Gruntfest
City of Fort Collins, CO: Flood Information & Resources
Hydrologic analysis of the 2003 Spring Creek Flood
Photos of Fort Collins' 2003 Spring Creek Flood
Ft. Collins April 30, 1999 Flood
Flood Links & Background
Wildfire

Fort Collins Interagency Wildfire Dispatch Center
Boulder County tabulation of recent local wildfires
Boulder County tabulation of older local wildfires
Boulder's 2009 Olde Stage Road Fire (aka Neva Road Fire)
Firewise Web Site (advise on homeowner preparation)
Drought

What is Drought?
SPI (Standardized Precipitation Index, a drought index based only on precipitation)
Palmer Drought Indices (PDI)
Explanation of PDI
Comparison of Drought Indices
Drought Management background
Drought Watch example
NOAA Drought Page
Information to minimize drought impacts
Special thanks to Paul Tiger and Janne Cookman for helping develop these links.